Sculpture, Stylisation and Animal Form

In sculpture historical design has provided a great source of inspiration. A tradition has evolved whereby motifs taken from nature are stylised: particular features are enhanced whilst others are simplified to create the most pleasing effect.

The shell shown here is embellished with the acanthus - a stylised leaf motif developed in Classical Greek architecture and derived from the plant of the same name.

In animal form also, stylisation is employed, in the representation of features such as hair and feathers.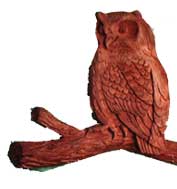 The eagle shown here with wings displayed is a fine example of the style that evolved in seventeenth century carving. Although the carving is full of life and movement, its form is almost entirely stylistic. Claws and feathers are carved very boldly, using shadow to create visual contrast. The eagle has been given exaggerated knees, and the beak is deliberately enhanced, capturing a sense of the power of the animal.

On this rams head the fur is confined to the top of the head, the face remaining completely smooth. Curls are suggested, but the natural form has been simplified.