Lettering, Plaques, Inscriptions, Signs and Noticeboards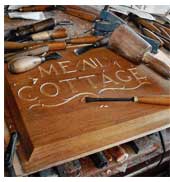 Hand carved lettering is part of our architectural and artistic heritage. Inscriptions carved in wood can be found adorning the nations oldest historic houses and churches.

We continue this tradition as part of our woodcarving services, offering lettering incised and in relief, in any style and to any scale. We design and produce signs, plaques and notice boards to your requirements, and are able to put inscriptions to clients' own pieces. We will also work to your own design. Lettering may be painted or highlighted in gold leaf.

As woodcarvers, we are able to incorporate further ornamentation, such as period carving, company logos, pictures etc. into our designs to produce stunning signeage. Hotels, local authorities, quality retail outlets, pubs and company headquarters are typical applications for this area of our work.

Churches and other organisations use our services for memorial boards, rolls of honour and commemorative plaques. Working to your requirements, we will arrange the complete project, dealing with construction, carving, gilding and installation of your board.