Mouldmaking and Reproduction of Carvings

Further to our carving and patternmaking services, we also produce moulds and make reproductions of our carvings.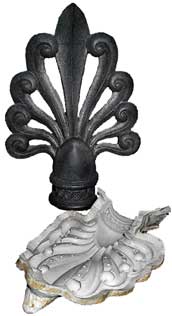 Using silicone rubber mouldmaking techniques, we can exactly replicate the most intricate shapes, even very thin sections and the deepest undercuts. Every detail is picked up by the silicone mould; it is even possible to tell the type of wood used in the original by the pattern of the grain on the reproduction.

Casts are produced in polyester and polyurethane resins, which may be coloured to simulate wood, given a paint effect finish, or gilded for a truly opulent appearance. Vacuum degassing equipment and vibrating tables are used to ensure a perfect cast, free from any trapped bubbles of air.

The eagle cast shown here is reproduced from one of our own hand carved patterns. Forming the crest to a circular convex mirror of antique design, it is one of four moulded components for this product, and is finished in 24-carat gold leaf.

The fleur-de-lys and anthemion finials are of our own design, reproduced in resin with a paint effect finish.