Commercial Production Runs
This workshop regularly undertakes small to medium scale production runs of carved components for commercial applications.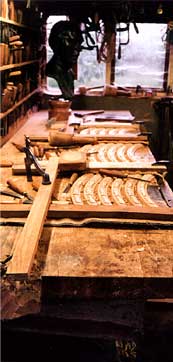 We use modern techniques where possible to aid production of our commercial carving. This is particularly useful where repetition is involved, and facilitates our competitive pricing.

Shown here is a selection of our carved ornamentation that is used by manufacturers to enhance their products. Examples of further motifs are given on the design page and kitchen & bedroom page of this website.

This selection is by no means exhaustive; ours is a bespoke service, tailored to your individual specifications.

Often it is appropriate to reproduce a quantity of carvings from hand carved originals. Our patternmaking and reproduction services may be of interest if you have such a project.