Commercial Displays and Company Logos

Corporate image is of prime importance in these days where branding is king.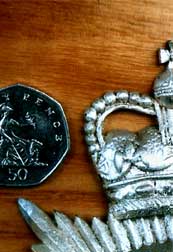 Surprisingly perhaps, for a traditional craft like woodcarving, we can offer a valuable service to raise the profile of companies and organisations. Taking your name and logo, we will produce a three dimensional plaque for added impact to commercial displays and at marketing presentations, and for display at your head office, in reception areas and on signage. We are able to faithfully represent your logo in relief form, and reproduce lettering in any style or typeface. We can also supply bespoke furniture and joinery incorporating your name and logo.

The panel shown here was created for the cover page of a company brochure, and is also on display in the company's reception area. Carved in maple, this 15" x 22" panel has been left in natural wood with a clear lacquer finish. However, a painted finish is also an option, picking out the colours used in your literature, and gold or silver leaf highlighting may be incorporated.

The police badge motif was made for the crest to a roll of honour board on display at Police headquarters. It is carved in lime wood and finished in white gold leaf with enamelled highlights.