Profile and Brief History (view brochure pdf - 1.48MB)



A carver of over twenty years experience, Michael Fisher established his workshop in 1985, hand carving specialist components for local reproduction furniture companies. The business expanded steadily, moving into the fields of architectural and ecclesiastical woodcarving, quickly gaining a reputation for producing work to a very high standard. Michael's services have been sought by architects and joinery manufacturers working for the most discerning clients. As early as 1989 he was entrusted with much of the carved work to No. 10 Downing Street during its refurbishment of that year. Other prestigious work soon followed, for the refurbishment of the Foreign Office buildings at Whitehall, and the restoration of Uppark House, a National Trust stately home that was gutted almost beyond reinstatement by fire.

Michael now works with other carvers to satisfy a growing clientele, covering all aspects of carved ornamentation. The largest contract to date has been the carving to the entire East End Screen of St. George's Hall, the great banqueting hall at Windsor Castle, which was ravaged by fire in 1997. Anyone who has seen this at close hand would be amazed to learn that all the work was
completed in just a three-month period.



The workshop also offers a patternmaking service, producing the masters for the reproduction of intricate decorative items where artistic and technical demands place the work beyond the scope of ordinary patternmaking services.

The Workshop's clientele includes companies, the Church, architects, interior designers, cabinetmakers and discerning clients nationwide and internationally. Undertakings range from individual commissions or small one off pieces to medium scale production runs and large contracts as outlined above. A complete design service to complement the carved work is also available. Other services performed include traditional gilding, woodturning and mouldmaking.

With the advent of the Internet, Michael is keen to cement his reputation, continuing to produce work in the traditional manner to the highest aesthetic and technical standards. Drawing on years of experience, he works and designs confidently in the styles of most periods, imparting an artistic fluency to his carving rarely seen in modern times.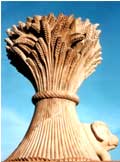 Whatever you have in mind, Michael is always pleased to discuss new projects and commissions, both large and small. From the first initial contact you will find him attentive and informative, willing and easy to work with. In most cases figures may be produced quickly by phone or email, with reference to drawings and photographs exchanged by mail, fax or email. Where necessary, Michael will visit you or go to site to discuss and make arrangements in greater detail, in order that the most suitable approach to any undertaking may be arrived at. Even if you have a project that involves services over and above those outlined in this website, you will find an enquiry to Michael helpful, as he works closely with allied trades, and in many cases can arrange liaison between separate parties.