Carved Furniture

The hallmark of an exclusive piece of furniture is quality in design and execution. As fashions change and change again, the timeless elegance of period furniture holds an enduring appeal.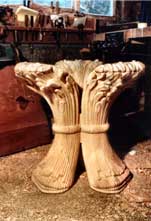 From a medieval chest to today's finest replica furniture, carving is used to raise the piece from the merely functional to an object of beauty and desire.

The eagle console table shown here is an example of how woodcarving may be used to spectacular effect. A seventeenth century design, this table is one of a handed pair, made to hold a solid marble top. The support is an eagle with wings displayed, sculpted from limewood to accept a water gilded finish.

More familiar furniture, such as chairs, bureaux, chests of drawers, are lifted with the addition of carved elements: legs may be enriched with acanthus leafwork and ball & claw feet; a bureau may stand upon bears paw feet, with shell motifs adorning the doors, and perhaps an intricately carved crest.

We can faithfully replicate furniture of any period, working from existing pieces, or from detailed photographs of historical examples.

For the cabinetmaker we offer a bespoke service for the production of carved components: drawing on our extensive experience in period carving, we are able to match existing examples, working from an original, or from photographs or drawings.