Ecclesiastical Carving
Cathedrals and churches are home to many great and inspirational carvings.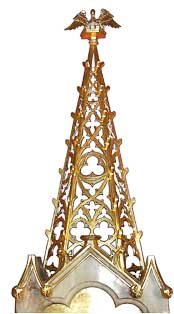 The Dove of Peace shown here was carved for the Church of the Immaculate Conception and St. Joseph, Hertford. Medieval in style and 32" in length, it is carved in basswood and follows a design by The Gothic Revivalist, Sir George Gilbert Scott. The Madonna and Child is exemplary of its nineteenth century style, the rustic appearance of earlier statuary giving way to a smoother, more refined carving style; retaining the sense of serenity that this devotional icon represents. Carved in Limewood, it stands 50" tall.

The Church is a living tradition, with the ministry continuously refurbishing its buildings. Our workshop meets this demand, creating new carvings in sympathy with their surroundings.

In common with much architectural carving, a good appreciation of historical design is necessary, this being particularly true of the Gothic style prolific throughout the church.

The pierced vine leaf trail pictured above is a fine example of the carving that we have replicated for refurbishment, and is typical of the Gothic style. Carved in European Oak, it forms part of a rood screen .