Moulding Embellishment and
Picture Frames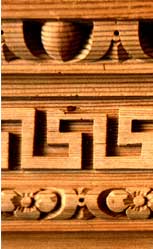 The embellishment of architectural mouldings such as architraves, dados and skirting rails is a device employed from ancient classical times to denote the importance of a building: creating an air of opulence and holding the eye by subtly lifting the tone of an interior.

There are several standard designs which re-occur throughout history, the egg and tongue shown to the left being the most prolific. The acanthus leaf is a device frequently used, particularly on the ogee moulding. However the list is almost endless, limited only by the creative capacity of the woodcarver.

At this workshop we have many years experience producing fine enrichments, particularly in the field of restoration and refurbishment, where great skill is required to replicate picture framing and existing embellishments.

The pictures shown here come mainly from our work to the restoration of Uppark House in Sussex, which is described in the Prestigious Works Folio section of this website. Hundreds of feet of replacement carving were created to display alongside the surviving mouldings. The carving in this historic house is amongst the nations very finest, requiring great skill and attention to detail in its restoration, satisfying the stringent demands of the National Trust.