Woodcarving Services

This workshop provides a comprehensive professional woodcarving, patternmaking and design service to the highest standards.

We draw on a comprehensive technical, artistic and intuitive understanding of many periods of historical design, along with the best in modern style to produce sympathetic carved ornamentation to satisfy the needs of the most discerning clients and the most demanding projects.

Working nationally and internationally with architects, designers, manufacturers, cabinetmakers and furniture producers we provide the rare skills needed for the completion of specialist projects and production runs.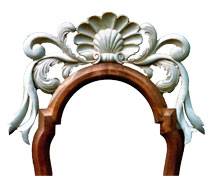 We also undertake many individual commissions and stand alone projects, from a simple memorial inscription or company logo to complete items of furniture, statuary, village signs and carved coats of arms. These individual commissions are complemented by a design service to the same high standards as our carved work.

Whatever your needs, please take the time to explore our website for your particular area of interest. We offer other related services, details of which are also given in the following pages. There is also a selection of the many prestigious projects that we have been involved in, and a gallery of some of our work.

A phone call, email or letter will ensure our full attention to your project. Details are on the contact page.